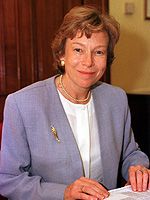 Rt Hon Joyce Quin MP Minister of State for Foreign & Commonwealth Affairs
Ministerial responsibility for: European Union; Western, Southern, Central and Eastern Europe; Central Asia and Transcaucasus
Joyce Quin is Member of Parliament for Gateshead East and Washington West which she has represented since 1987. Ms Quin was previously Minister of State at the Home Office from 1997 to 1998.

Ms Quin held a number of positions in Opposition :
Member of the Commons Treasury and Civil Service Select Committee from 1987 to 1989
Front-bench spokesperson on Trade and Industry from 1989 to 1992 on Employment from 1992 to 1993
Deputy to the Shadow Foreign Secretary and spokesperson on Europe from 1993 to 1997.
Ms Quin was MEP for South Tyne and Wear from 1979 to 1984 and Tyne and Wear from 1984 to 1989 and became a Privy Councillor on 29 October 1998.
Prior to entering Parliament, Ms Quin was a Labour Party researcher (1969-72) and a lecturer at the University of Bath (1972-76) and the University of Durham (1977-79).
Ms Quin was born in November 1944, and was educated at Whitley Bay Grammar School, Newcastle University and the London School of Economics, is a member of the Fabian Society, and is a volunteer tourist guide to the city of Newcastle-upon-Tyne.