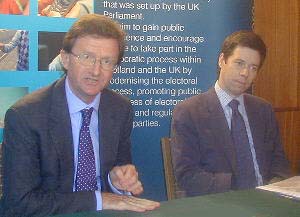 Sam Younger and Stephen Judson - 28/08/03
BACKGROUND
The Electoral Commission is independent of Government and aims to ensure openness and transparency in the financial affairs of Britain's political parties, and to increase public confidence and participation in the democratic process.
The European Parliament (Representation) Act 2003 provides for Gibraltar to be enfranchised for elections to the European Parliament. This follows a ruling in the European Court of Human Rights in 1999, which found the UK in breach of the European Convention on Human Rights for failing to allow Gibraltarians to vote or stand in the elections to the European Parliament in 1994.
The Commission's recommendation has been submitted to the Lord Chancellor who is required to lay the recommendation before Parliament. If Parliament rejects the draft order specifying the region, The Lord Chancellor may alter the draft order following consultation with The Electoral Commission.
Download the full report
from the official website.
8 Mb Adobe format
Gibraltar should join South West for elections to European Parliament
28 Aug 2003
The UK's independent Electoral Commission has today recommended that Gibraltar be combined with the South West region for future elections to the European Parliament.
Because Gibraltar has too few voters to create a separate region, the European Parliament (Representation) Act 2003 required the Commission to propose a region in England and Wales with which the people of Gibraltar can participate in European Parliamentary elections.
A two-month consultation in Gibraltar and the UK confirmed a high level of support for combination with the South West. As well as historical and maritime links, many respondents felt that MEPs representing the South West's diverse communities and interests would be best placed to take on board the distinct concerns of Gibraltar.
There was broad support amongst Gibraltar's political leaders for joining the South West, and all but one of the region's current MEPs actively promoted the addition of Gibraltar:
'We strongly support the proposition that Gibraltar should be included within the South West Region and join together on a cross-party basis to argue the case...We are long accustomed to taking into account sub-regional interests and to managing a whole composed of distinct parts.'
Speaking at a press conference in Gibraltar today, Chair of the Commission Sam Younger said: 'Our priority has always been to ensure the most effective representation of the people of Gibraltar. We believe that combination with the South West best satisfies this condition and will be broadly welcomed by people in Gibraltar and in the region.'